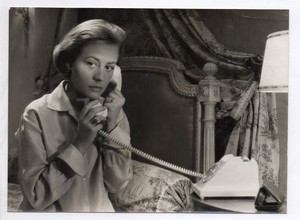 La Corde raide (1960)
La Corde raide est un film français réalisé en 1959 par Jean-Charles Dudrumet et sorti en 1960.
Cora, the wife of a wealthy Parisian businessman, Daniel, is involved in an affair with Henri, an unscrupulous garage mechanic who has set his sights on Cora's fortune. Daniel becomes ... See full summary »
Director: Jean-Charles Dudrumet
Writers: Jean-Charles Dudrumet, Roland Laudenbach | 1 more credit »
Stars: Annie Girardot, François Périer, Geneviève Brunet
Daniel Lambert, qui dirige une importante société en association avec Pierre Simon, fait surveiller par un détective son épouse Cora qu'il soupçonne de le tromper. Cora a pour amant Henri, le frère de Pierre Simon, gérant d'un garage de voitures d'occasion. Cora a établi un stratagème pour tromper le détective privé, elle passe la journée à faire du shopping avec une amie, puis au dernier moment file dans un taxi au garage d'Henri. Excédé par la jalousie de son mari qui se refuse à divorcer, les deux amants cherchent un moyen de se débarrasser de lui. Cora envisage alors de placer du somnifère dans le thermos de café que son mari prend quand il a une longue route à faire. Daniel parvient a enregistrer une courte conversation téléphonique entre sa femme et son amant, il croit alors reconnaître la voix de Pierre. Ses soupçons sont ensuite confirmés quand il voit ce dernier offrir un cadeau de prix à Cora en marge d'une réception.

La Corde raide (1960) aka Lovers on a Tightrope français / no eng sub/ Stars: Annie Girardot, François Périer, Geneviève Brunet
Brand: CLASSIC COLLECTION
Product Code: La Corde raide (1960) dvdr aka Lovers on a Tightrope
Availability: In Stock
Related Products
Tags: dvd, dvdr.rare movies, hard to find, oop dvd, movies, VHS, dvd r, DVD-R, Movie Collectors, rare classic dvds, collection, hard to find DVD, oop, Manufactured By Demand, MOD, classic MOVIES, Raoul Walsh, G.W. Pabst, F.W. Murnau, Fritz Lang, Vladislav Starevich, Robert Wiene, Josef von Sternberg, Per Lindberg, Lois Weber, Erich Stroheim, Phillips Smalley, Carl Theodor Dreyer, Leo McCarey, Mauritz Stiller, Kenji Mizoguchi, Miles Brothers, Buster Keaton, Eddie Cline, Giovanni Pastrone, Mikhail Kalatozov, Yasujir Ozu, Alfred Hitchcock, Josef von Sternberg, CharlesVanel, Fred Niblo, Sergei Eisenstein, Leo Mittler, Frank Borzage, Clarence Brown, Anthony Asquith, Mauritz Stiller, Aleksandr Medvedkin, Maurice Tourneur, Winsor McKay, King Vidor, Ted Wilde, Victor Sjöstrom, André Antoine, HerbertPonting, Man Ray, Harold L. Muller, Charles R. Bowers, Wallace Worsley, VictorFlemming, Fred C. Newmeyer, Sam Taylor, Oskar Fischinger, Jean Epstein, Alexander Dovzhenko, Carl Theodor Dreyer, Abel Gance, Dziga Vertov, Yevgeni Bauer, Hanns Schwarz, Dimitri Kirsanoff,