Raumschiff Orion series (1966) / all episodes on dvd r / Stars: Dietmar Schönherr, Eva Pflug, Wolfgang Völz | sci fi series


Raumschiff Orion series





aka The Fantastic Adventures of the Spaceship Orion

aka Raumpatrouille
aka Raumpatrouille Raumpatrouille - Die phantastischen Abenteuer des Raumschiffes Orion

Commander McLane and the crew of the fast space cruiser Orion patrol Earth's outposts and colonies in space and defend humanity from the alien 'Frogs'.
Stars: Dietmar Schönherr, Eva Pflug, Wolfgang Völz |
The seven episodes of the TV series are:
1. Angriff aus dem All (Attack from Space): A First Encounter of the deadly kind. Introducing the major recurrent threat of the series, the alien "Frogs".
2. Planet außer Kurs (Planet off Course): The Frogs send a fiery planet on collision course with Earth. The crew succeeds in destroying it, but the Orion VII is destroyed in the process.
3. Hüter des Gesetzes (Guardians of the Law): The first mission of the Orion VIII is a robot story set on a mining colony.
4. Deserteure (Deserters): The Frogs have a mind-control device, but the Orion has Overkill.
5. Kampf um die Sonne (Fight for the Sun): An encounter with a matriarchal former rebel colony.
6. Die Raumfalle (The Space Trap): An outing with a science-fiction author runs into trouble when he is captured by a Mad Scientist who has taken over a penal colony.
7. Invasion: A Manchurian Agent sabotages Earth's defenses and comes close to making the Frog invasion a success. But the Orion saves the Earth (again), and in the end it is transferred back to van Dyke's force, and Cliff and Tamara finally get to kiss.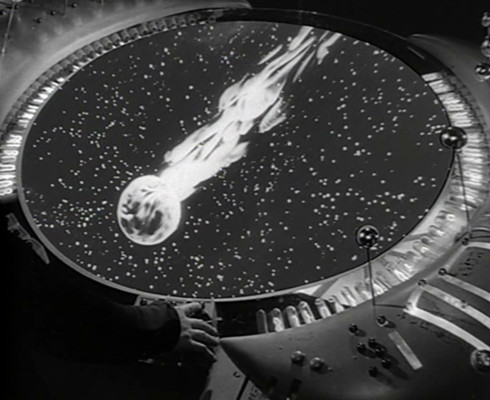 Raumschiff Orion series (1966) / all episodes on dvd r / Stars: Dietmar Schönherr, Eva Pflug, Wolfgang Völz | sci fi series
Brand: SCI-FI COLLECTION
Product Code: Raumschiff Orion series (1966)
Availability: In Stock
Related Products