Mysterious Island (1951) serial / all episodes / Director: Spencer Gordon Bennet (as Spencer Bennet) Writers: Lewis Clay (screenplay), Royal K. Cole (screenplay) | Stars: Richard Crane, Marshall Reed, Karen Randle

mysterious Island is the 46th serial released by Columbia Pictures. It is an adaptation of the 1874 novel by Jules Verne, The Mysterious Island (L'Île mystérieuse).
As in the original story, which was a follow-up to Twenty Thousand Leagues Under the Sea, this serial is set in 1865. However, the serial has alien Mercurians as an additional set of villains and it has been labelled as a space opera version of the Verne novel.

all episodes;

Lost in Space
Sinister Savages
Savage Justice
Wild Man at Large
Trail of the Mystery Man
The Pirates Attack
Menace of the Mercurians
Between Two Fires
Shrine of the Silver Bird
Fighting Fury
Desperate Chances
Mystery of the Mine
Jungle Deadfall
Men from Tomorrow
The Last of the Mysterious Island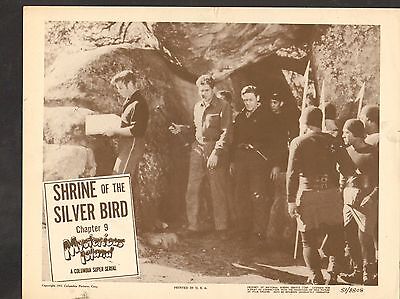 Union prisoners use a balloon to escape a Southern prison camp near the end of the Civil War and end up marooned on a mysterious volcanic island with very unusual inhabitants.
Director: Spencer Gordon Bennet (as Spencer Bennet)
Writers: Lewis Clay (screenplay), Royal K. Cole (screenplay) |
Stars: Richard Crane, Marshall Reed, Karen Randle
Mysterious Island (1951) serial / all episodes on 2 dvd r s/ Director: Spencer Gordon Bennet (as Spencer Bennet) Writers: Lewis Clay (screenplay), Royal K. Cole (screenplay) | Stars: Richard Crane, Marshall Reed, Karen Randle
Product Code: Mysterious Island (1951) serial
Availability: In Stock
Related Products